Franz-David Baumann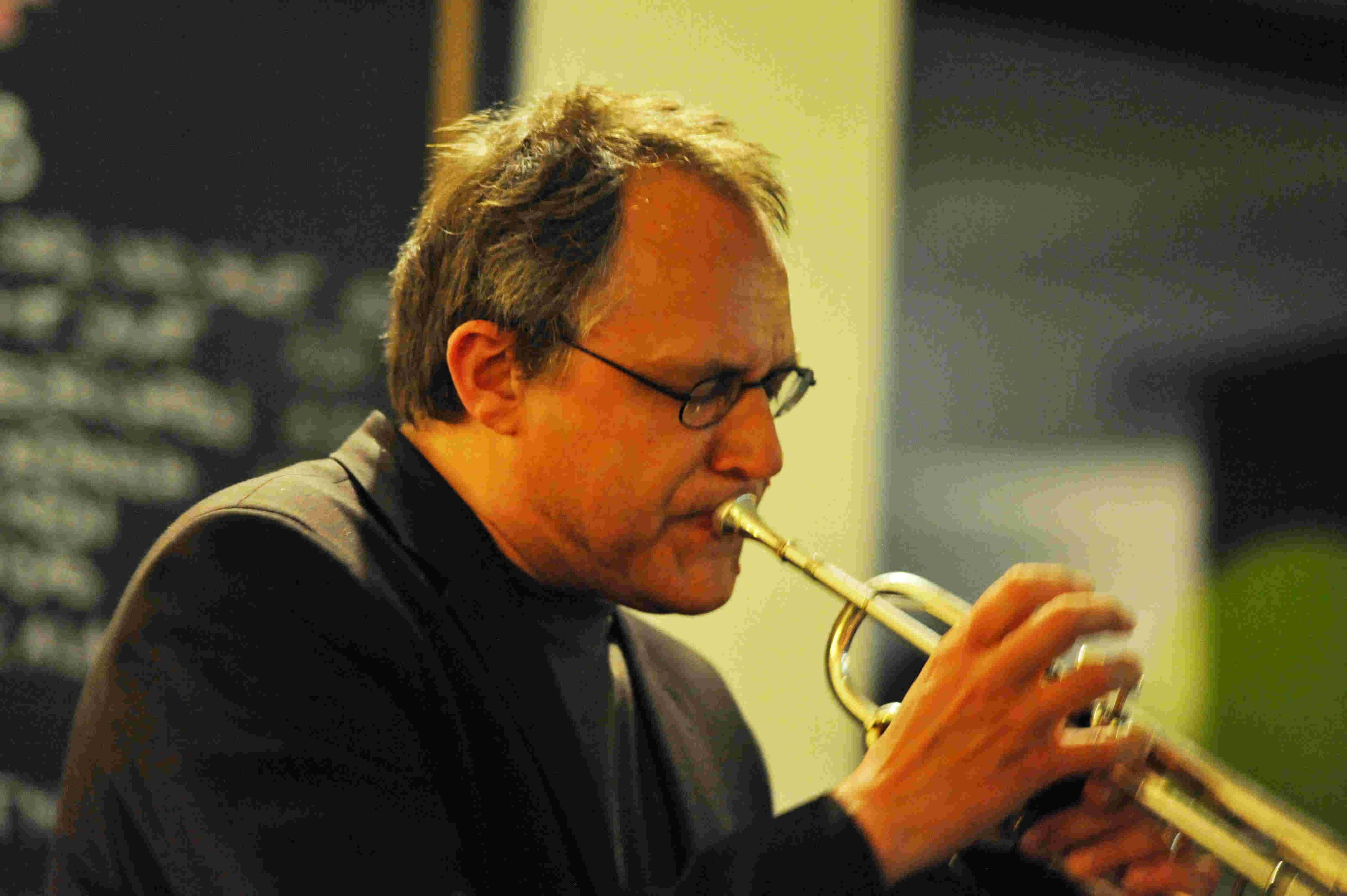 Komposition Trompete/Flügelhorn
(*14.10.1958 in Oberkirch/Baden ) Fachhochschulreife 1977 Gymnasium Oberkirch - studierte Trompete und Komposition am Richard-Strauss Konservatorium (R.Quinque + P.J.Korn 1977-1984) und an der Musikhochschule München (W.Killmayer 1984-1989) Jazzworkshops mit Art Farmer, Hal Galper, Slide Hampton, Manfred Schoof.
Blechbläserworkshops mit Malte Burba, Laurie Frink (New York)
1985 Gründung des Franz-David Baumann Quintetts
1988 Musikpreis der Stadt München Komposition größerer Orchester-und Kammermusikwerke , sowie Lieder nach Texten von Ch.Morgenstern , H.Hesse, Philipp Soupault.
1988 Filmmusik zu "Sing Vogel,sing" Kleines Fernsehspiel im ZDF Versuch einer Jazzoper: "Coole Bleibe".
1989 Gründung des PANAMA-ENSEMBLE´s (Musik für Kinder und Erwachsene)
1997 Auszeichnung folgender Werke und CD´s mit einem Leopold (Empfohlene Musik für Kinder):
"Die Theaterhasen - Der Dicke Karpfen Kilobald" DG Junior 449669-2/4
"Der Maulwurf Grabowski - Der Hamster Radel" DG Junior 435887-2/4
"Wie der Maulwurf beinahe in der Lotterie gewann" DG Junior 447535-2/4
"Oh,wie schön ist Panama - Post für den Tiger" DG Junior 437979-2/4
1994-1997 Kompositionsaufträge von Vereinte Versicherungen für:
"Post für den Tiger"
"Der Hamster Radel"
"Wie der Maulwurf beinahe in der Lotterie gewann"
"Der Rattenfänger von Hameln"
1998 Deutscher Schallplattenpreis für "Der Inspektor Maus" DG Junior 457372-2/4 (Mäuse Jazz Krimi)
2000 Deutscher Schallplattenpreis für "Der Rattenfänger von Hameln"DG Junior 459-847-2/4
Ständige Konzerttätigkeit mit dem Panama-Ensemble in:
- Philharmonie Köln
- Oper Dortmund
- Konzerthaus Wien
- Tonhalle Düsseldorf
- Hamburger Musikfest
- Bremer Musikfest
- Schloß Elmau
- Tourneen mit dem Goethe-Institut
- Prinzregententheater München
- Jazzfestival Bobingen
- Jazzfestival Magdeburg
- Jazzfestival Mindelheim
- Jazzfestival Erding
- Hofer Jazztage
- Konzerthaus Karlsruhe
- Konzerthaus Freiburg
- Schauspielhaus Berlin
- Marler Musiksommer
- Liederhalle Stuttgart
- Schleswig Holstein Festival
- Rheingau Musikfestival
- Richard Strausstage Garmisch
Partenkirchen
- Niedersächsische Musiktage
- Philharmonie Essen....
Seit 1990 Dozent und Musikalischer Leiter an der NEUEN JAZZ SCHOOL MÜNCHEN/ehemals Joe Haider Jazzschool (Trompete, Arrangement + Komposition, Gehörbildung, Workshop)
2000 Kompositionsauftrag der Kölner Philharmonie: "Der Trommler" Gregory Charamsa/F.D.Baumann frei nach Grimm´s Märchen U.A. 18.11.2000 Kölner Philharmonie Coproduktion mit WDR Köln und Deutsche Grammophon
2000 Gründung der Giordano Bruno Consulting Group (Rock-Pop-New Jazz-Electronic) in Zusammenarbeit mit Siegfried Rössert. Regelmäßig Mitglied im Ensemble des ICI-Forum Munich Composer in Residence 1999 + 2001 (Barry Guy) und 2000 (Giancarlo Schiaffini) 2003 (George Lewis)
2002 Kompositionsauftrag "Inspektor Maus" für Big Band (Lumperjack Big Band/Stoess AG)
2002 Kompositionsportrait - Uraufführung der Suite für Big Band sowie diverser Kammermusikwerke im Kulturzentrum Einstein München mit dem ICI Forum
2002 Gründung des Plattenlabels Panama-Records um fortan eigene, unabhängige Musikproduktionen zu veröffentlichen. CD Produktion April Waltz mit dem Franz-David Baumann Quintett
2003 Zusammenarbeit mit George Lewis im Rahmen des ICI Forums. Konzerte in Ulrichsberg (A) (Kaleidophon) und Glasgow (UK) (Center of Contemporary Arts)
2003 München Uraufführung "Das kleine Lumpenkasperle" Michael Ende/Franz-David Baumann *Thienemann Verlag /Das Bombardon Annegert Fuchshuber/Franz-David Baumann
2003 Mindelheim Uraufführung der Hänsel und Gretel Ballettproduktion mit Musik von Franz-David Baumann
2004 Zusammen mit Friedemann von Rechenberg Gewinner des Electric Renaissance Wettbewerbes im Rahmen der Georg Friedrich Händel Festspiele Halle/Saale
2004 Richard Strauss Tage Garmisch-Partenkirchen U.A. Till Eulenspiegel Kinderkonzert (Richard- Strauss/Franz-David Baumann)
2004 Österreichische Erstaufführung der Big Band Fassung von "Inspektor Maus" im Konzerthaus Wien mit der Think Bigger Big Band (Anton Bruckner Privatuniversität Linz)
2004 Aufnahmesession mit der ICI Big Band Studio 2 Bayerischer Rundfunk München. U.A. Einspielung der 2004 entstandenen Komposition "Voodoo Junction "für Big Band
2005 Bremen Sommer in Lesmona U.A. der Orchesterfassung von "Der Rattenfänger von Hameln" mit der Deutschen Kammerphilharmonie Bremen /Ltg. Franz-David Baumann
2005 Kompositionsauftrag Klavier-Festival Ruhr "1000 Stiefel" von Max Kruse
2006 Gebläsehalle Duisburg
2006 U.A. Orchesterfassung "Oh,wie schön ist Panama" "Der Maulwurf Grabowski" Staatsorchester Braunschweig Ltg. Franz-David Baumann
2006 Jazzfestival München U.A. Rückschall für Big Band ICI-Big Band München
2006 Tripelspiel mit Martin Wolfrum - Kirchenorgel, Johannes Bauer –Posaune, Franz-David Baumann Trompete Flügelhorn – U.A. Calls and Shouts
Seit September 2007 Leiter der Berufsfachschule für Musik Fachrichtung Rock Pop Jazz
2007 Franz-David Baumann Quintett BR – Mitschnitt Jazzclub Unterfahrt München
2007 Veröffentlichung der Auftragskomposition 1000 Stiefel" von Max Kruse als Buch mit CD (Illustration Doris Eisenburger) bei Ueberreutter Wien
2007 Gründung der Berufsfachschule für Musik des Vereins Neue Jazzschool München e.V. www.jazzschool.de Fachrichtung Rock Pop Jazz zusammen mit Max Neissendorfer
2007 Produktion und Aufnahme und Veröffentlichung von AZIZA mit dem Franz-David Baumann Quintett.
2008 Neuaufnahme und Veröffentlichung von "Inspektor Maus" bei Panama-Records
2009 Auszeichnung der Neuaufnahme "Inspektor Maus" mit dem Medienpreis Leopold "Ich mach Dich gesund - Janosch erschienen bei Terzio als Buch mit CD www.terzio.de
2010 Einspielung der Filmmusik "Kleine Lichter" mit Franka Potente für Mona Davis Musikproduktion "Die Pecorinos" Neuerscheinung Sommer 2010 bei Terzio als Buch und CD mit Henk Flemming/Doris Eisenburger/Franz-David Baumann
2011 Nominierung der Produktionen "Ich mach Dich gesund – Janosch" und "Die Pecorinos" für den Medienpreis Leopold
2013 "Die Pecorinos" – "Liebe ist manchmal Käse" Neuerscheinung des 2ten Pecorinos Bandes Sommer 2013 bei Terzio/Carlsen als Buch und CD mit Henk Flemming/Doris Eisenburger/Franz-David Baumann